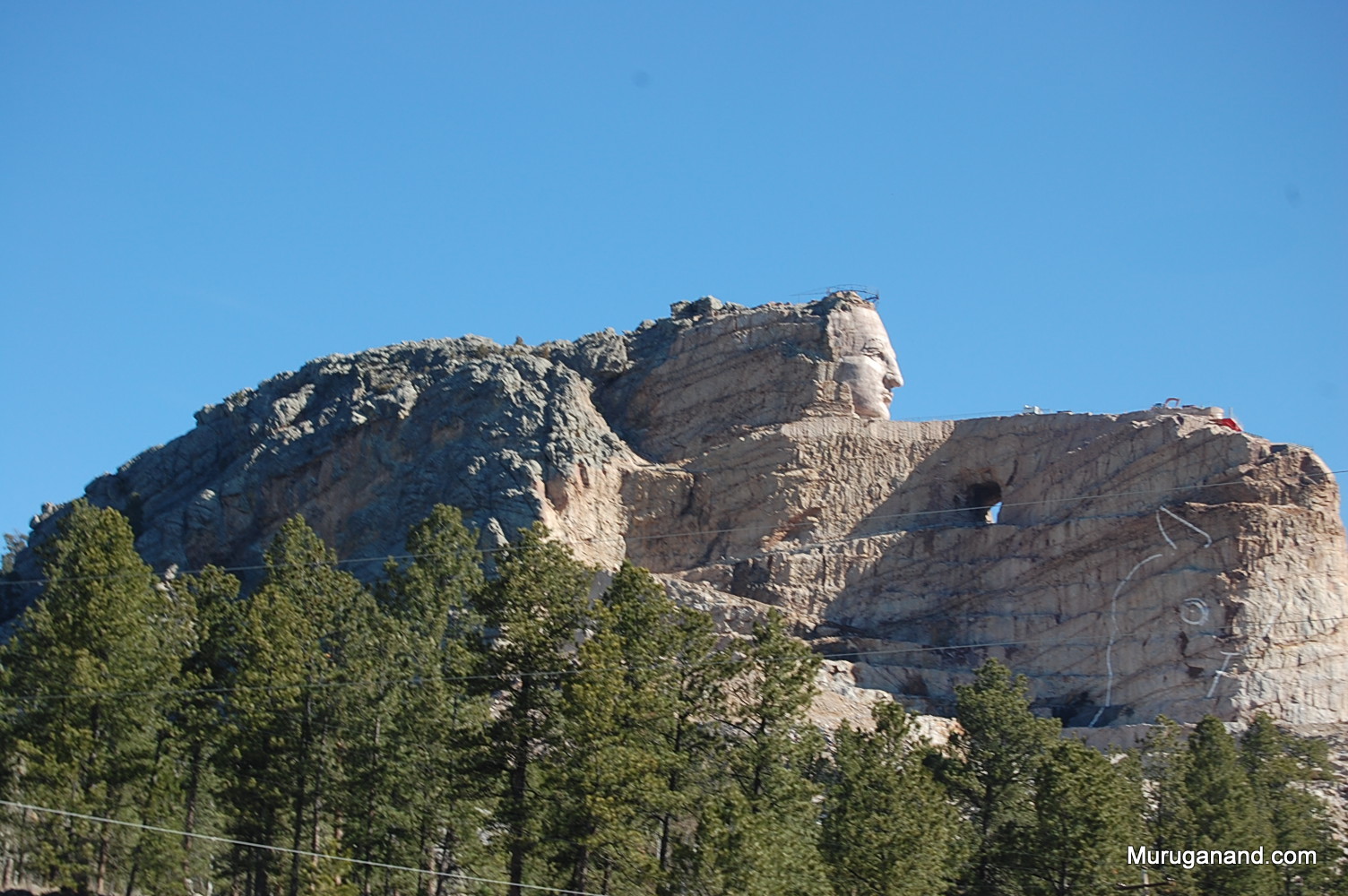 SD- Crazy Horse Memorial (2017)
Mount Rushmore Memorial during its construction (1927-1941) attracted the attention of many people including the Lakota Indian Chief Henry Standing Bear. In the year 1939, the chief wrote to Korczak Ziolkowski, a sculptor who briefly worked on Mt. Rushmore to undertake a project to carve a large memorial to Crazy Horse (Tasunka Witco), a Lakota Indian warrior. Korczak was hesitant to consider the proposal initially but convinced of its worth when he read the sentence "My fellow chiefs and I would like the white man to know the red man has great heroes, also". Korczak moved to Black Hills, SD in 1948 from his hometown West Hartford, CT. He settled there for the next 34 years, working tirelessly on the world's largest sculpture. The project started in 1948 and Korczak died in 1982. His wife Ruth took over the project and the family of ten children and later 23 grandchildren also joined the dream project of Korczak. Today it is managed by a nonprofit organization called Crazy Horse Memorial Foundation as visualized by Korczak.
The project has two other goals- 1) to educate the public about Native Indian people and their culture 2) to create a Native Indian University and Medical Training Center for the North American Indian. The work continues to meet all three goals. The face of Crazy Horse is completed and the carving of hand is in progress. No one can say when the project will be completed because the foundation doesn't accept federal funding for the project as per the wish of Korczak Ziolkowski.
The proposed size of the sculpture is amazing. The goals of the project are amazing. The completed face of the Crazy Horse is amazing. The resolve of the sculptor and his family are also amazing. Korczak worked on this project for 34 years without caring for monetary rewards. It should be noted that Korczak was not a Native Indian. He was of Polish descent from New England. When he died in 1982, at the age of 74, he was eulogized as "a man of legends, dreams, visions and greatness". Native Indian representatives proclaimed that "the two races of people have lost a great man". It is interesting to note Korczak considered Winston Churchill, Franklin D Roosevelt and Mahatma Gandhi as his heroes and Tasunka Witco was added to the list later.
Crazy Horse Memorial is located in Black Hills of South Dakota. It is 17 miles west of Mount Rushmore and 38 miles southwest of Rapid City. Crazy Horse's face is 87 feet, 6 inches. It is 27′ taller than the figures at Mt.Rushmore. The entire carving is planned to be 563 feet high and 641 feet long. Once completed, it will be taller than Washington Monument and the Great Pyramid of Giza.
Crazy Horse Memorial is another example of art standing on the shoulders of engineering and explosives.