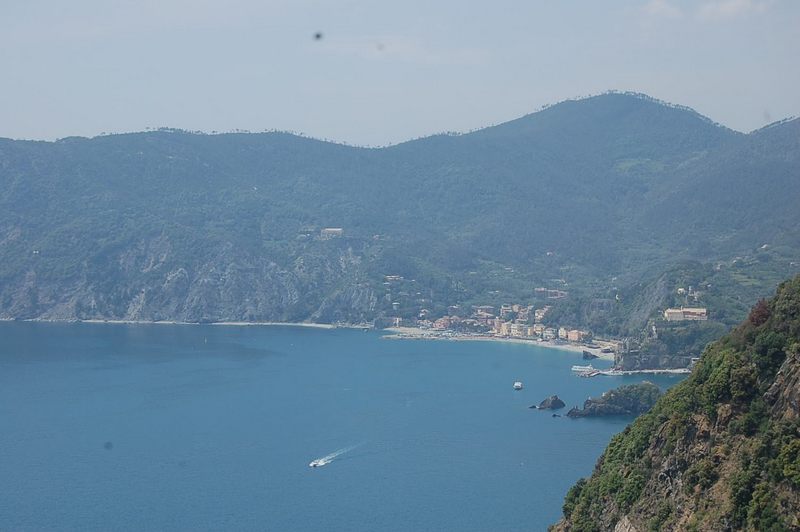 Cinque Terre, meaning five lands in Italian, is part of Italian Riviera. The term Riviera refers to the coastal line between the sea of Liguria and the mountains which extend from southern city of La Spezia to Genoa and Genoa to French border. It is approximately 130 mile long. The Riviera has a mild climate suitable for grapevine, olive and lemons. Mountains and the sea provide a great scenery throughout the Italian Riviera. Cinque Terre occupies only six miles but offers easy access to enjoy and get a feel for the whole. It has become a popular tourist attraction since 1960's.
From our previous destination Lucca, we traveled by bus for an hour and half to Levanto where we stayed for two nights. Levanto is closer to Cinque Terre and lot bigger than Cinque Terre. Accommodation and food are easily available. Levanto also has a nice beach. Our main objective for this tour is to see the picturesque five villages. The villages are connected by trail paths as well as train services and the trains go through Levanto.
We arrived Levanto in the evening and immediately proceeded to the train station for practicing the local train travel by going from Levanto to Monterosso. The five villages of Cinque Terre are: Monterosso al Mare, Vernazza, Corniglia, Manarola and Riomaggiore. Population of Levanto is 6,000 and the entire Cinque Terre is about 4000. After familiarizing with the train service we returned to our hotel in Levanto where we had a demonstration of making pesto alla genovese using a Genoa recipe. Pesto is a common sauce made from basil leaves, pine nuts, garlic, parmesan and sheep milk based cheeses, olive oil and rock salt. The sauce is a global hit. It is prepared by pounding the ingredients with mortar and pestle. The region is well known for Cinque Terre wines, a grape based brandy, a sweet liquor flavored with lemons and a crispy snack made from chick pea flour. Gelato made from honey is also a local specialty. Anchovies of Monterosso are a local specialty designated with a Protected Designation of Origin status from the European Union.
Next day is our big hike day and a visual feast day. My daughter Lalitha and our fellow tour group members Dave and Sharon joined the hike. We took the train from Levanto to Monterosso al Mare, the first village of Cinque Terre. There we started the hike in the blue path known as Sentierro Azzurro. It is safely and nicely maintained by the National Park System for a nominal fee. We hiked for 2 miles to the next village Vernazza. It felt like six due to ups and downs in the mountain. The hike took 3 hours because of the relaxed phase. We didn't do hiking in other villages to save time and energy. We caught a train from Vernazza to Riomaggiore, the last village. At Riomaggiore we boarded a boat which sailed on the Gulf of Liguria all the way from Riomaggiore to Levanto. It lasted for 75 minutes and we were able to see all five villages comfortably from the best seat of the boat.
Hike was strenuous due to ups and downs but the view of sea from the mountain was fantastic. We saw an interesting terrace system in which mountain was converted to a terrace by building dry stone walls without any mortar. This was done by men and women contributing their labor for several centuries! This enabled them to cultivate grapevine, olive, lemon and cactus in the sloping mountains. The total length of the wall is estimated to be 4000 miles and it is equivalent to the length of the Great Wall of China. This is one of the reasons why Cinque Terre was chosen as UNESCO World Heritage site. During the hike, we went thru the vineyards and olive groves. During the boat ride we saw the colorful villages from far and near. The picture was complete from both angles and we returned to Levanto late evening by boat.
Cinque Terre is a visual delight. It is nature, nurtured by man. The day goes quickly when you are there. Our day also went quickly like a dream. We would like to dream it again for the fun of it.