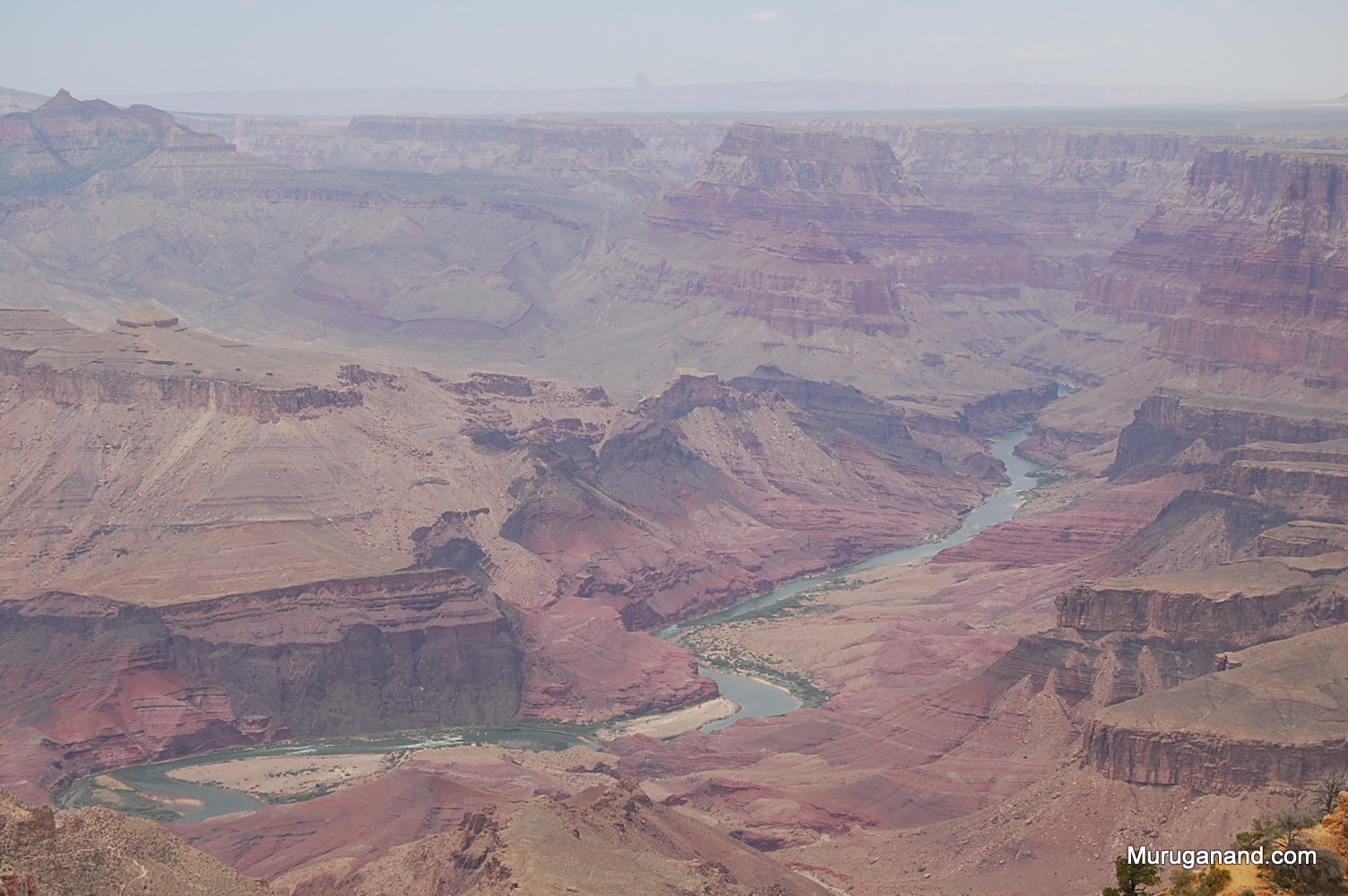 Grand Canyon is the last national park we visited in this Southwest USA tour. We are now in a position to compare it with other parks. Zion National Park is for us to experience the towers of stone; Grand Teton is to appreciate the majesty of peaks; Bryan is to see the multitude of hoodoos; Yellowstone is for sheer enjoyment of nature and wild life; Grand Canyon is for us to watch and wonder. Take one look at the Canyon. You'll be amazed by its size. It is vast. It is immense. It is the mother of all canyons. It is the supreme form (Vishvarupa) of all canyons.
Grand Canyon is a national park; world heritage site; nickname of the state to which it belongs to and one of the seven natural wonders of the world. It is the masterpiece of Colorado river. Six million people visit the park every year and it is the second most visited park in this country. Grand Canyon is 277 miles long; up to 18 miles wide and 1 mile deep. It has an area of 1.2 million acres or 1900 square miles. The canyon you see today is the work of six million years by the river, wind and ice. Grand Canyon is not a single Canyon. It is a composite of thousands of small canyons put together in one location by Colorado river. It may appear as millipede or a scar on earth when viewed from a satellite.
Grand Canyon is part of the landscape called Grand Staircase in Colorado plateau. It is the oldest and bottom most step of the staircase. One can see various layers of rock such as limestone, sandstone and shale on the wall when viewed from canyon floor. The youngest one, limestone at the top is 250 million years old and the oldest one, Vishnu Schist at the bottom is 2 billion years old, almost half the age of earth. The rocks change color as the sun moves across the sky during the day. Native Indians inhabited the Canyon 10,000 years ago and it is held with respect ever since.
We entered Grand Canyon from the east and spent our time in the south rim. First we arrived at the Desert View Watch Tower and had the aerial view of the Canyon. Then we went to the overlook at Mather point and got to see the Canyon from a different angle at different time of the day. After checking into a lodge for overnight stay inside the park, we took a shuttle to Hopi point. There we observed beautiful sunset and its effect on the color of the rocks. Next morning we left Grand Canyon for the final drop off point, Las Vegas. With this our Black Hills/Southwest tour was completed.