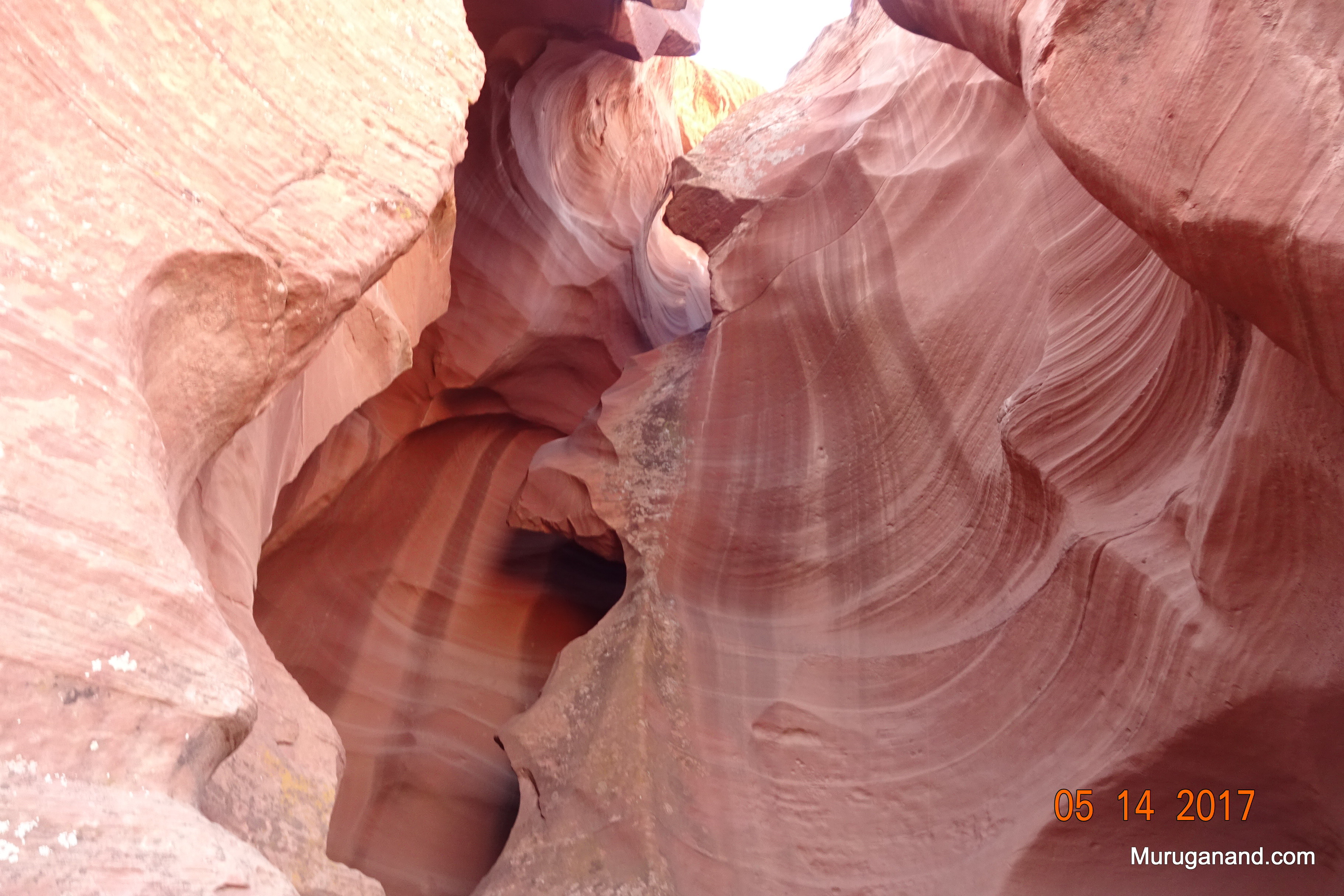 UT/AZ- Powell Lake and Antelope Canyon (2017)
Lake Powell is a reservoir on Colorado river. It is the second largest man made reservoir with 25 million acre feet of water when it is full. It has a maximum length of 185 miles, maximum width of 25 miles and an average depth of 132 ft. It borders between Utah and Arizona and located near Page, Arizona. Glen Canyon Dam was built on Colorado river to create Lake Powell for local needs. Water is used for agriculture, home and power generation. Glen Canyon recreation area attracts 2 million visitors per year. Activities include fishing, boating, water skiing and tourism.
Lake Powell region has lots of sandstone. Colorado river ran through the sand beds for centuries and carved intricate small canyons before rushing its way to Grand Canyon. Antelope Canyon is one such canyon. There are beautiful sandstone structures on both sides of Lake Powell and in between. It appears as if the river is practicing its skills before undertaking its major piece of work, Grand Canyon which is 130 miles down the road.
In this tour we first saw Glenn Canyon Dam by walking on top of the dam. It is a big dam with a height of 710′. At the visitor center, we looked at the exhibits on the turbines used for hydroelectric power generation. We also saw an interesting bridge right across the center. It is an arch bridge rising 700 ft above water. Then we went to Wahweap Marina to go on Antelope Canyon Cruise. It is a 90 minute cruise traveling the lake few miles and canyon few miles. We got a close look at the colorful rock formations and the massive Glen Canyon Dam from the boat.
Next morning we were picked up by a Navajo guide from our hotel in Page. We drove on a 4WD jeep part way on road and part way on desert sand to the entrance of Antelope Slot Canyon. The guide led us into the canyon and showed us the 600 feet long and 130 feet high canyon. The tour lasted less than an hour. This canyon is one of the famous slot canyons in the world. Slot canyons differ from regular canyons in the sense they are narrow and tall. The curvature and the effect of light falling on the rocks make them look like modern art. It is photographer's dream land where sun light and rock play magic. In this tour we also learned about Navajo Nation. The slot canyon is not managed by National Park Services of US. It is in the semi autonomous territory of Navajo Indians and managed by them. Navajo Indians were given a large piece of land in this region to govern and practice their own way of life. The region consists of three corners of three states namely Arizona, Utah and New Mexico. It is Navajo Reservation. It is Navajo Nation. The territory covers 28,000 sq.miles and 175,000 people live here.
Lake Powell and Antelope Slot Canyon were two side attractions on our way to Grand Canyon. After this tour, we left Lake Powell with additions to our knowledge of south west geology and new exposure to the workings of Navajo Nation.
[supsystic-gallery id='14']