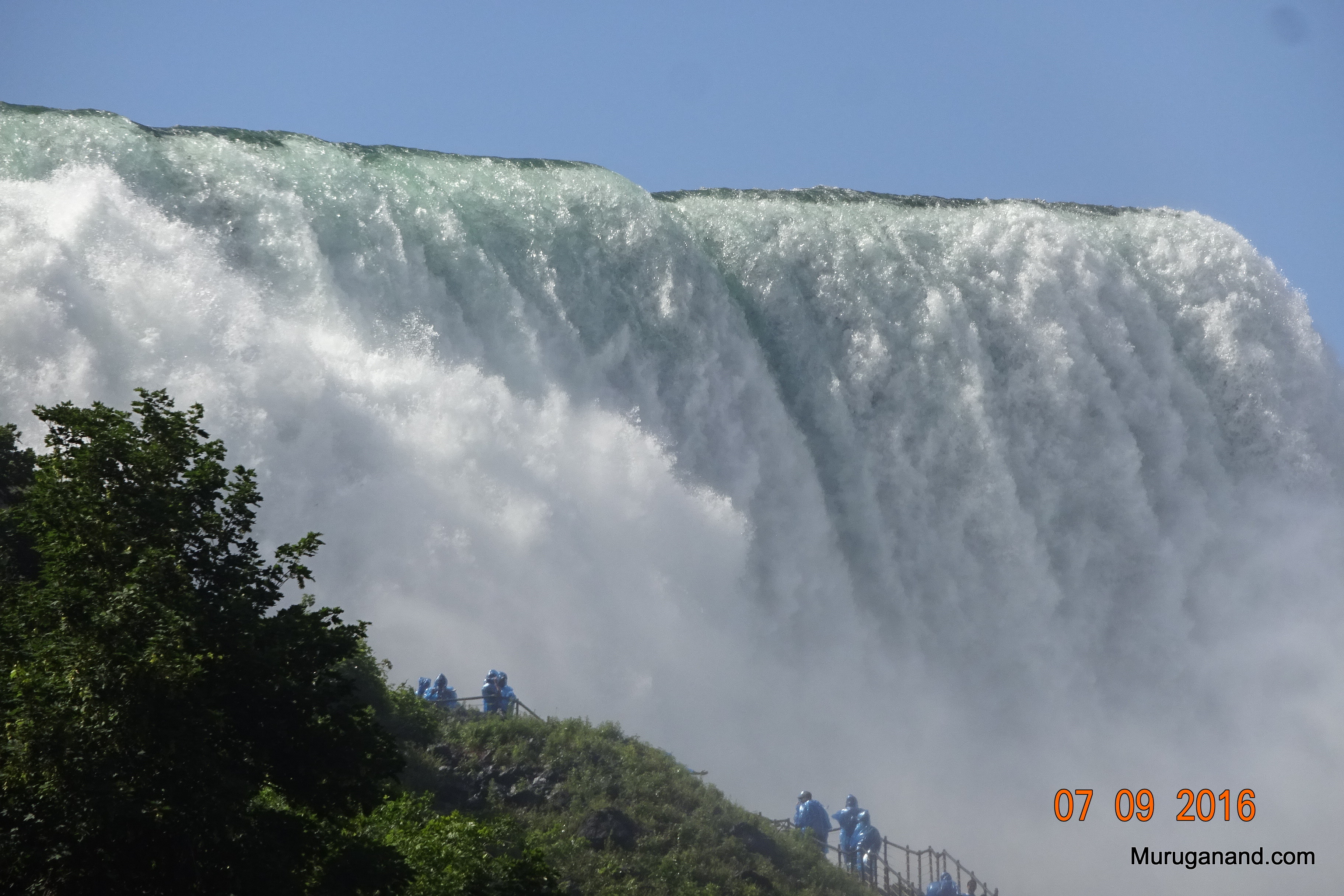 NY- Niagara Falls and Watkins Glen (2016)
My sister and I visited four attractions in New York by a bus tour. Niagara Falls is located near Buffalo; Whirlpool is close by; Ft.Niagara is few miles from Niagara Falls and Watkins Glen is 150 miles south east of Niagara Falls.
Niagara Falls is a group of three falls. American and Bridal Veil Falls belong to USA and the Horse shoe Falls belong to Canada. An estimated 20- 30 million people visit the Falls each year. On the US side, the Niagara is not a National Park but it is the oldest State Park (New York, 1885). There may be 500 Falls in the world that can beat Niagara either by height or flow of water. But Niagara holds the record for the combination of height (165 ft) and the flow (0.75-1.5 million gallon per sec depending upon the time, day and season). Ninety percent of water flow is from Canadian side. Niagara Falls also has a record in demonstrating the hydroelectric power. The science and technology of Tesla and Westinghouse made it possible to generate and distribute large amount of electricity over a long distance for the first time. The current power plants in Niagara produce electricity to light more than million homes (2.4 gigawatts). The thundering waters of Niagara is one of the most popular attractions in USA. Niagara Falls is a US National Historic Landmark and is listed in the National Registry of Historic Places. Niagara River and the Falls is really a channel connecting water from Lake Erie to Lake Ontario which eventually goes to Atlantic Ocean through St.Lawrence river.
Whirlpool State Park is located 4 miles north of Niagara Falls. Water from Niagara River takes a violent turn at this location resulting in extreme rapids and a whirlpool.
Fort Niagara is a State Park located on the eastern bank of Niagara river at its mouth on Lake Ontario. It was originally built in 1726 by the French for strategic reasons to control transportation into North America. Later the British and then US took over the fort. The struggle to control north american continent is made clear by the history of Ft. Niagara. Native Americans were used as pawns in the power play!
Watkins Glen is a State park located on the finger lake region of New York. It is a gorge created by ice age glaciers and continuous action of Glen Creek. The water from Glen creek eroded the rocks (shale, limestone, sand stone) at different rates and carved a 400 ft deep gorge over a distance of 2 mile. There are 19 water falls on the major trail and the cliffs are 200 ft high. The creek flows side by side of the walking trail and one can walk behind the falls. Scenery is amazing.