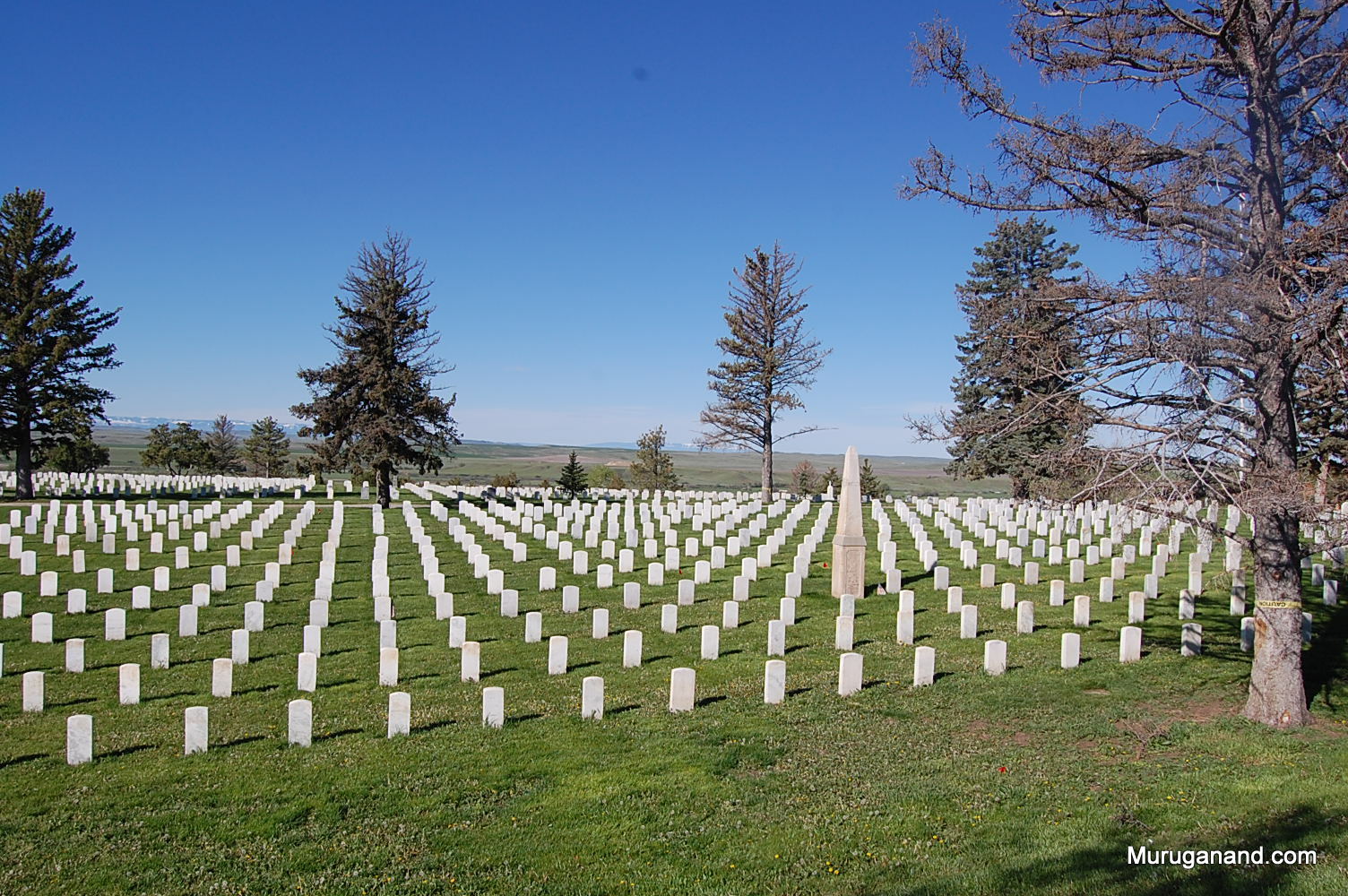 MT- LBH Battlefield (2017)
We had a brief stop over at the Little Bighorn Battlefield while traveling from Sheridan to Cody on our way to Yellowstone. It is only a short detour, an hour drive (70 miles north) from Sheridan. The Battlefield offers a lesson in history to those of us who missed US history in school. For this reason I use more pictures from internet to illustrate the lesson in this album.
WHY DID IT HAPPEN?
In 1873, US had a financial crisis in which banks collapsed and long recession followed . US population increased to 35 million because of immigration from several countries and the government was under pressure to find new areas for people to move in. During this time gold was found in the Indian territory of Black Hills of Dakota and whites rushed to the hills. Under these circumstances, the government decided to go against their agreement with Indians (Fort Laramie,1868) and asked them to move out of the Black Hills and unceded area close to Little Big Horn River to accommodate the moving population. The civil war hero George Custer was given the responsibility to force the Indians from unceded territory to the allotted reservations.
Indians in Great Plains (Dakotas, Montana, Wyoming, Nebraska) were leading a nomadic life. Their lives revolved around buffalo. Buffalo population was reduced drastically due to hunting by whites and so Indians had to move around to hunt buffaloes for food. There were restrictions on where they can go and where they can't go by the government. When gold was found there was a large scale migration into Indian territories. Government went against the past agreements and so Indians fought back under the leadership of Sitting Bull and Crazy Horse.
WHAT HAPPENED AND HOW DID IT HAPPEN ?
Exactly 141 years ago on June 25, 1876, two culturally opposed forces clashed along the Little Bighorn River in present day Montana. One was fighting to open new land for settlement, the other to preserve a nomadic way of life. The 7th Cavalry Regiment of US Army, with a few hundred soldiers was led by Lieutenant Colonel George Armstrong Custer and Major Marcus Reno. Two thousand warriors of Lakota Sioux, Cheyenne, and Arapaho tribes were led by their political and spiritual leader Tatanka Iyatonka (Sitting Bull) and the Lakota warrior hero Tasunke Witco (Crazy Horse). Custer devised a plan for surrounding the Indian camps and defeat them in their own backyard but the opposite happened. The Indians surrounded the US battalions in overwhelming number and wiped out 209 men of Custer's Seventh Cavalry and 53 belonging to Reno's regiment. Custer fought until his last breadth. Reno retreated. About hundred Indian warriors lost their lives.
AFTERMATH OF THE BATTLE:
The battle had dire consequences. The government under President Ulysses Grant took strong action, considering the country was celebrating hundredth year of Declaration of Independence and its industrial might in the world. A large army was sent to force the Indians to surrender and move them into smaller reservations. The task was accomplished. In September 1877, Crazy Horse was killed by a soldier during a fight and in December 1890, Sitting Bull along with seven of his followers died during a conflict with police when they try to arrest them. Shortly after Sitting Bull's death, the Seventh Cavalry killed 146 Lakota Indians, including women and children who participated in the ritual, Ghost Dance at Wounded Knee creek. It was the last, sad episode of the Indian wars.
TRIBUTE TO THE FALLEN:
Today the battlefield is a National Monument. There is Memorial for soldiers who died in the battlefield. There is also Memorial for important Indians who fought and died. Both, Indian tribes and US patriots get together and recall history every year on June 25th and pay respect to their ancestors and heroes.