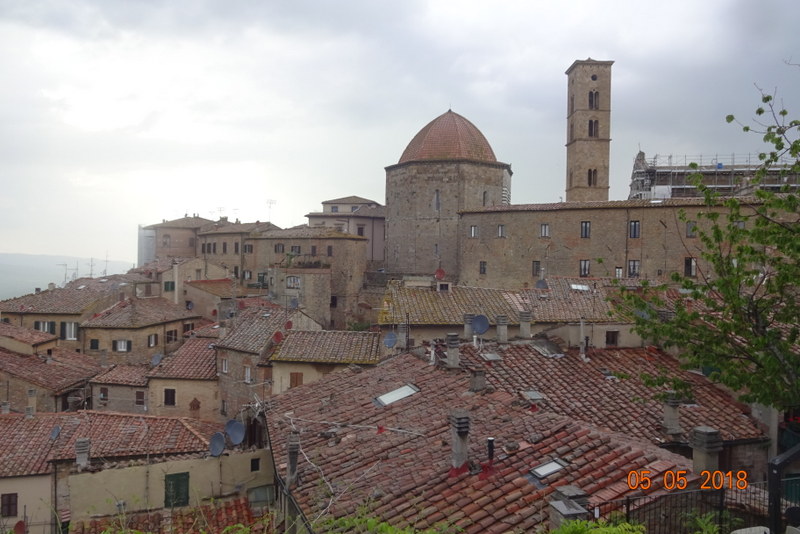 Our second stop in the "Heart of Italy" tour is Volterra. It is in the region of Tuscany and the province of Pisa. It is a 4 hour ride from Rome (170 miles). This 4 hour went quickly because most of the time we traveled thru Tuscany region, the vineyard of Italy. Scenery was lush green with green meadows, vineyards and cypress trees. We drove through beautiful farm land one after the other. When we reached Volterra, we got a medieval feel because of the wall surrounding the town. Volterra is small with a population of 10,000. It is surrounded by a 7 mile wall. The city consists of a town square, town hall, cathedral, a baptistery, an Etruscan museum and ruins of a Roman Theater. The streets are paved with cobblestone and stores are small. The streets can not accommodate big vehicles and probably 2 small cars can go with some difficulty. Parking is outside the downtown.There are nice churches inside and outside the town. A fortress is located outside the town but it was converted to a prison in 15th century by the ruling Medici family for accommodating their opponents. It continues to be a prison.
Volterra is very different from Rome with 3 million population. Though it is small, it has character. Small cobblestone streets are beautiful. Stores are like friendly houses. Everything is in walking distance. People seem to know each other and often involved in friendly conversations. The town square is functional and takes many forms. Sometimes it is a market. Other times it is a public facility. It changes its look rather quickly.
We stayed two nights in Volterra and got to walk around the town with the local guide and on our own. We took part in two additional activities namely Alabaster (gypsum) craft workshop and wine tasting. Overall, it was a delightful experience. Our local guide Annie is an American who fell in love with Volterra. She has been living there for the past 20 years. I can not blame her. To think of it, I envy her. When my time is up and I go to heaven, I will certainly compare the lay out. If it ain't as good as Volterra, I'll ask for a transfer.
I like the philosophy of Rick Steve's company. They have intentionally included a small town free from main stream tourism in the itinerary so that we can have an authentic feel for Italy.
[supsystic-gallery id='63']