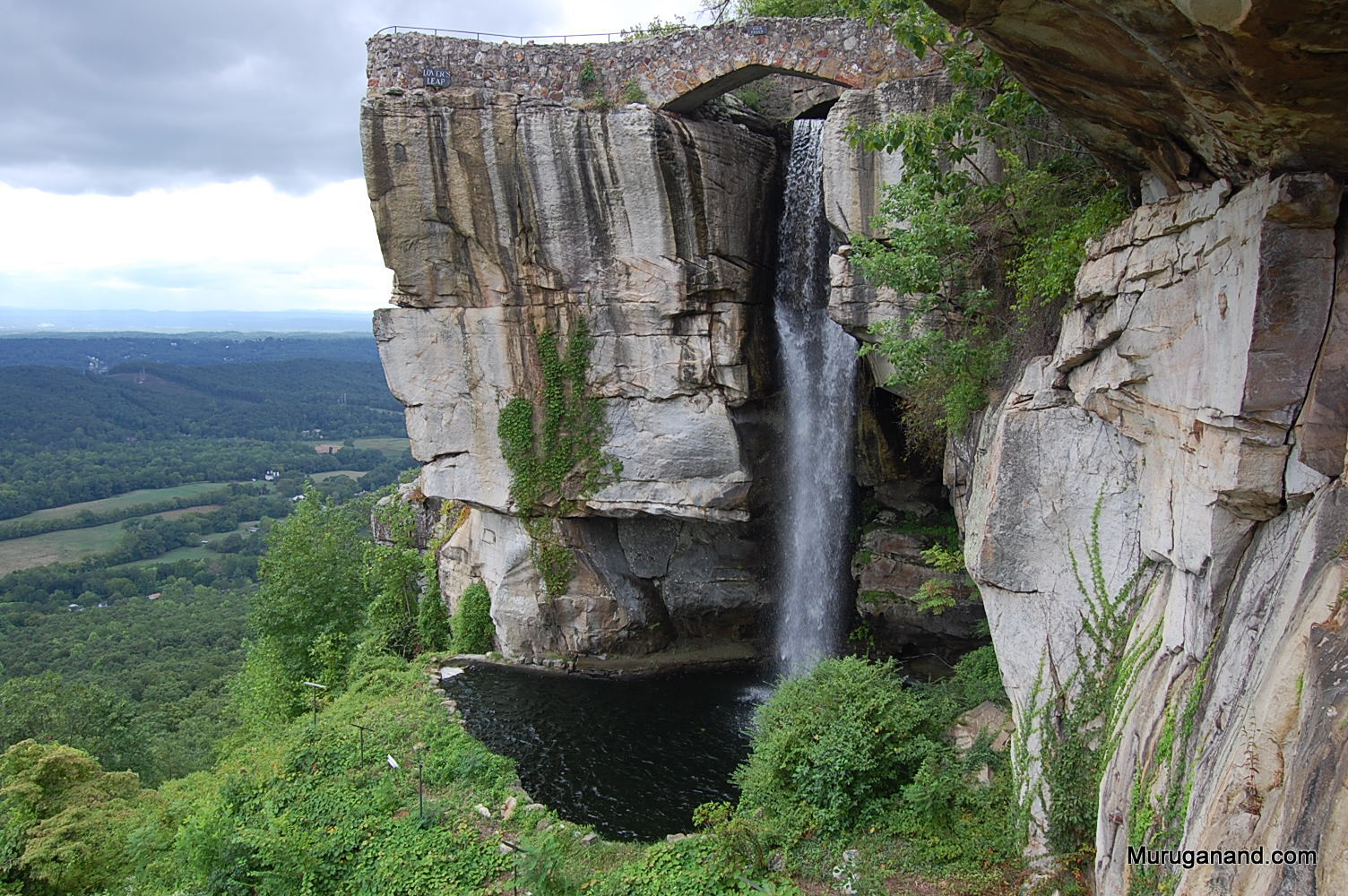 TN- Lookout Mountain and Ruby Falls (2016)
Lookout Mountain spreads across Alabama, Georgia and Tennessee. When we visited Smoky Mountains, our bus tour took us to two attractions in the Tennessee side of Lookout Mountain and one in Georgia.
Ruby Falls is an underground water fall in the Lookout mountain in Chattanooga, Tennessee. It is located inside a cave. The fall is 1120 ft below the surface of the mountain and it is 145 feet high. An elevator takes the visitor from the mountain top to the underground cave location. The cave has a cavern with natural formations (of limestone) looking like Niagara Falls, chandelier, elephant foot and dragon foot. The fall is named after the wife of the discoverer of the cave. It is privately owned.
Lookout Mountain Incline Railway is the world's steepest railway located on the slope of the Mountain in St.Elmo, neighborhood of Chattanooga. The gradient of the track is 72.7% at the top (for every unit of horizontal travel, 0.727 unit of altitude gained). In the 1800's, people used cumbersome buggies to go to the top of the mountain where hotels were located (2 dollar, 4 hour ride). The incline railway (one train to go up and one to come down) was built in 1865 using two coal fired steam engines. Later two 100 hp motors replaced the steam engines. The track is one mile long and the ride is about 10 minutes (one way). The railway has been certified as a Historic Mechanical Engineering Landmark by ASME (American Society of Mechanical Engineers).
Rock City Gardens is an attraction officially in Georgia but labelled as Chattanooga attraction because it is only six miles away from the city. It is also on the Lookout Mountain at an elevation of 1700 ft above sea level. The rock city has interesting rock formations, botanical garden, fairy land cavern and a man made, 140 ft water fall. At the highest elevation, on a clear day, one can see many neighboring states. Rock City management claims seven states but experts are skeptical. However, it is an interesting site.
[supsystic-gallery id=28]