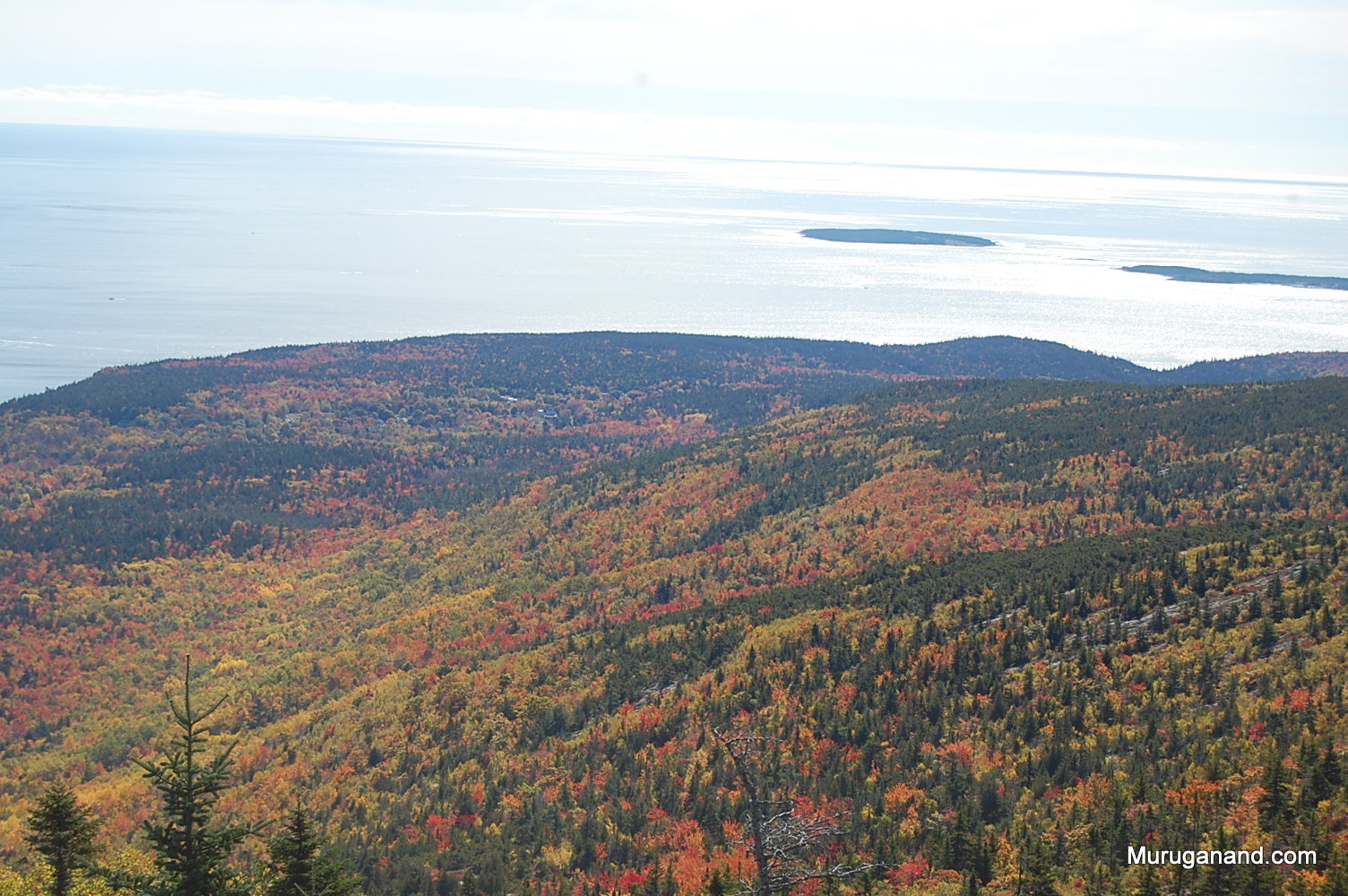 ME- Acadia National Park (2016)
Acadia National Park is located in the New England state of Maine. It is about 500 miles north east of New York City (Manhattan). On July 8, 2016 the park celebrated its 100th Anniversary.The park area is 50,000 acres. It was the first eastern national park. It has a distinction of being completely donated by private citizens. The park has mountains, forests and beautiful coast line (Atlantic ocean). Its granite rocks meet the sky, forest and water. The scenery is beautiful especially during the Fall season when its thousands of trees show off their color.It is the eastern most point of United states and the sun rise is seen first in this place for 5 months in an year. Over 2 million people visit the park every year.
The history of Acadia National Park is heart warming. A young man by name Charles Eliot from Boston loved the coastal area of Acadia and wrote an article about preserving it for future generations. Unfortunately he died at the age of 38. His father by the same name, Charles Eliot was an influential man. He was the President of Harvard University. He read his son's article and was touched by it. He used his influence to realize the vision of his son by creating an association for it in the year 1901. George B Dorr was appointed as a director of this association. George accepted the job gladly but demanded a salary of $1. George also came from a rich Boston family. He loved the area so much he spent the next 43 years in protecting and preserving Acadia for public use. When he died people learnt that George Dorr had spent his entire wealth on the park. Luckily there was some money left in his estate for his funeral. George was never married but people said he was wedded to Acadia. Another wealthy man who was attracted to Acadia and influenced by Eliot and Dorr was John D Rockefeller Jr. John D Jr. was the son of the richest and most hated man of America. But he differed from his father by not pursuing and managing wealth. He decided to spend his wealth for social purposes and reverse the public image of his family. He donated 10,000 acres of his own lands to the park he loved as a child. He also supervised and built a picturesque 45 miles of carriage road in consultation with George Dorr using the same architectural firm that built the Central Park, New York. The road prevented the entry of ugly automobiles and let only carriages to go through the beautiful park. Now the road is used for hiking and fun carriage rides during fall season.
I went on a bus tour from Manhattan. We first went to Acadia National Park and then to the tourist town Bar Harbor. Next day we visited the Portland Head Light. It was the first light house funded by Federal Government at the request of George Washington with a grant money of $1500 in 1790. Whale oil was used to light the lamp then.The light was visible for over 20 miles.