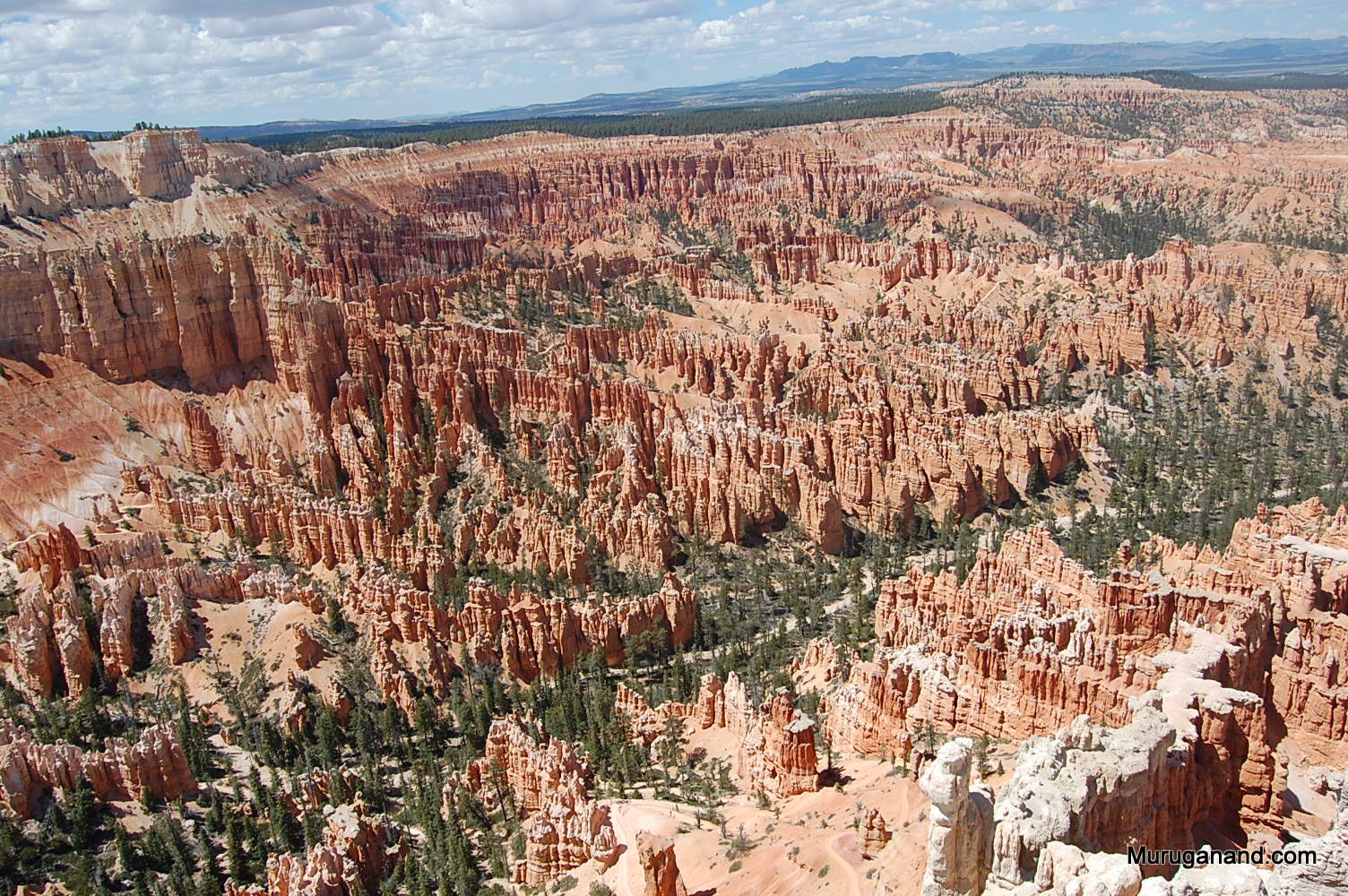 Bryce Canyon National Park is located 270 miles south of Salt Lake City. It has an area of 36,000 acres. 2.4 million people visit the park each year. Bryce is high in altitude 6000-8000 ft with an 18 mile scenic road running along the rim of Paunsaugunt plateau. Bryce is part of a landscape known as Grand Stair Case which encompasses Zion National Park in Utah and Grand Canyon in Arizona among others. The grand stair case covers a geological history of 500 million years.
Bryce Canyon is not really a canyon in the sense it was not formed by a river. Instead Bryce is a series of amphitheaters formed by erosion. The plateau once was filled with water and the lake was the size of Lake Eerie. The lake floor was made of mineral rich sediments. Due to the movement of tectonic plates, the plateau and sediments rose and water drained away. Rain water, frost and heavy wind eroded the sediments and formed "fins". Fins got eroded further by frost and made openings (windows) just like pot holes on the road during winter. Further erosion gave rise to "hoodoos". The sediments containing iron formed oxides and give rise to rust and orange color. The sediments containing manganese give the pink and purple color. The limestone rocks are white. Paria river curved around and made them look like amphitheaters. The structures resemble totem poles, people (Queen Victoria), animals (rabbit, alligator), objects (hammer), castles, bridges and so on. It is amazing to look at thousands of totem pole like structures in one single site. It is also interesting to see terra cotta like structures, so many of them in one place.
Lodge pole pines survive in some areas which are erosion resistant. In other areas the growth is retarded due to erosion. Mule deer, Pronghorn, Elk, Prairie dog, Marmot are common. Bear and Mountain Lions are seldom seen. Bryce Canyon is a great place for star gazing and astronomy because of the dark sky above.
[supsystic-gallery id='7′]